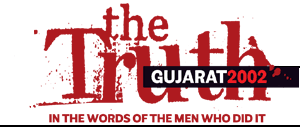 Tehelka has proof on camera that brings to light the compliance of the State machinery in Gujarat in the riots in 2002. The news is breaking on Tv channels AajTak (in Hindi) and Headlines Today (in English), as I write this.
It is reported that Narendra Modi gave the rioters 3 days to do what they wished. He asked the administration to look the other way, while the genocide unfurled:
For the first time, the investigation brings confirmation that the Gujarat murder of Muslims was not a spontaneous swell of anger, but a planned genocide strategised and executed by top functionaries of the RSS, the VHP, the Bajrang Dal and the state authorities, with the knowledge and sanction of Chief Minister Narendra Modi.

A BJP MLA is on tape saying he was present in the meeting in which Chief Minister Narendra Modi gave them three days time to do whatever they wanted. These are his exact words, "He had given us three days time… to do whatever we could. He said he would not give us time after that… He said this openly. After three days, he asked to stop and everything came to a halt…"

An accused in the Naroda Patiya massacre – the biggest incident in 2002 in which over 200 Muslims were killed – is similarly on camera saying Modi came to Patya that evening and thanked them saying, "Aap dhanya ho…"
Bravo Tehelka. Finally some real proof!
Contents of the full report at Tehelka:
First-hand accounts from the men who plotted and executed the genocide in Ahmedabad, Vadodara and Sabarkantha. Mayhem was meticulously planned and carried out by VHP-Bajrang Dal cadres across Muslim localities. READ »

The VHP and the Bajrang Dal manufactured and distributed lethal weapons across the state, often with the connivance of the police. READ »

Shocking accounts of how the guardians of the law colluded with the outlaws to make Gujarat's horror even worse. READ »

Key BJP, RSS, VHP and Bajrang Dal activists speak openly of how Narendra Modi blessed the anti-Muslim pogrom . READ »


How public prosecutors ran with the hare and hunted with the hound, keeping their sympathies strictly for the accused. Government Counsel Arvind Pandya on how he hopes to subvert justice by manipulating the Nanavati-Shah Commission, set up to ascertain the truth. READ »
The truth behind Naroda Patiya, the grisliest massacre of 2002. Ahmedabad police's collusion in the pogrom and its cover-up. Gory details of how former Congress MP Ehsan Jafri was hacked limb by limb at Gulbarg Society, in the words of those who did it. READ »
How spontaneous mob fury was shown as a premeditated conspiracy by the police who produced fake witnesses by bribing, coercion and torture. READ »