I've enjoyed Stuart's perspectives and reflections on Why Presenters are Failing the Social Media Communications Test, on how presenters and conference organizers can encourage, share better and benefit from the content created through social media (twitter, blogging, flickr etc), are invaluable. What's interesting too, are the comments there. This post from Dave Snowden seems to suggest that there's much to learn even for a well-known and experienced speaker like him, when he actually got to experience how liveblogging works first-hand at the KMWorld conference, and is intrigued enough by its value, to participate in the conversation and try it out himself.
Stuart's post also triggered this thought in me .. what does it all mean from the blogger's perspective? And before I could ask the question, he has another blogpost up, addressing just this! I've live-blogged several conferences – both where I have been a speaker and when just a participant – the motivations are both personal and social, and they differ by conference type. Makes me want to explore and reflect on why I live-blog – motivations and desired rewards and reinforcements, both extrinsic and intrinsic, around the different forms and contexts in which I have blogged conferences.
Personal Motivations (Intrinsic) – as Stuart and many of the commenters at his post say, it helps me listen and assimilate better. It is an archive that makes it so easy to dip into history when required. It can be a great excuse to retreat into some quiet time, away from all the 'networking'. What I have also found is that I remember the sessions I have blogged far better than those that I haven't – writing it down or taking a photo anchors it into my memory. And often, I find it's a great way to explore more – while blogging, you're looking at so many links too, and you find lots of serendipity in discovering more about the speakers, audience, or topics being discussed. It is my personal learning journey. Some might ask then, how is this better or different than writing notes down – that infact brings in the morphing of the personal into the social…..
Social Motivations (Extrinsic and Intrinsic) – … where I believe … if I am taking notes for me, why not share them! The technologies make it so easy. Often, you find that there are others you know who are really keen on attending but cannot, and it's a great way to include them. There are some conferences we go to and live-blog because we want to be noticed and acknowledged, and to socialize and network while there. It helps us in our business. There are other conferences though, that are more conducive to fulfilling intrinsic needs to have fun and enjoy ourselves in a warm, safe, social space. And there are those that do both!
Blogging a talk or even your observations, emotions and opinions is often a great conversation starter – people wonder what you're typing away so furiously at, and it's nice to explain you're blogging the event. At conferences where I know a lot of folk and really just want to hangout with them and have fun, I find I do little live-blogging, and more reflections about how I felt being with them. At other events where I don't really know much of the audience and am a little shy of starting conversations, I find myself blogging live much more. It also informs participants and speakers of your presence and your perspectives while at the conference – and makes you more approachable as a result. That's assuming the participants do check what's being written about the conference while there :).
While all that's great, I've also found, though not often, that it can work against you while at the conference; people unfamiliar with blogging tend to look at you strangely, and almost feel they are under some form of observation; hence behave in a more guarded fashion with you. Moreover, seeing a face stuck into a computer for long periods of time, isn't really welcoming especially to those unfamiliar with what we are doing – the classic tug between Approach and Avoidance resulting in conflict!
Another tussle I have with myself is when I have been invited as a speaker (which means at least my airfare and expenses are paid for – and that's a lot since I travel from India), how critical can I be of the organizers or other speakers in my blogposts. I feel I would sound ungrateful really if I shot them down harshly, which I could were I a paying participant. And still, I know I must be honest, and yet not brutal. It's easier to be critical when you set the tone for it by saying these are reflections and not just knee-jerk responses. Would love to know how others cope with this.
Some thoughts on how the nature of a conference affects my motivations to blog it, by tapping into different needs: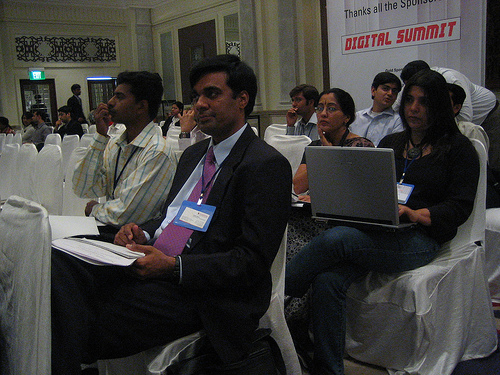 I was at the Digital Summit in Mumbai a few years ago, and almost felt simultaneously like a fool being the only one there with an open laptop, and a celebrity as others discover what you're doing. I was one of the few there with a laptop open, typing away furiously – no wifi, no modem working – ironic for a summit that calls itself the Digital Summit. Couldn't really liveblog it either – because there was no signal for my phone modem in the conference room, so had to do this in breaks. Hard work, and ate into networking time. So am wondering now, why did I blog it … apart from some of the reasons I've mentioned above, I found that once I started blogging it, I felt compelled to take on the responsibility of continuing blogging it. I was the self-appointed blogger for the conference! And often, blogging it live seemed to be a great window to say to the speaker …. I'm interested in what you're saying, and I'd like to talk to you more about it. It's also a way of finding other bloggers at such events, who you automatically feel are part of a community you can hang out with.
Much the same at EPIC – there were a few bloggers – Nancy White (another live-blogger I admire, and had fun jazz-blogging with) and Steve Portigal and even an official epicblog which I discovered only long after the conference!
(damn – I just discovered that technorati has killed all the tags from previous years for EPIC and Digital Summit etc)
In contrast, at conferences like Pop!Tech, where you have such super live-bloggers doing a fab job, I found my notes were mere placeholders for me, to learn more. Many of the presentations there are really stimulating, and I've enjoyed the feeling of being a part of a community of bloggers. Why did I blog it, when folks like Ethan and Bruno were doing a far better job … hmmm… I really do believe it helped me concentrate better on what was being said – most of which was very stimulating and new territory for me. Makes me think of school and the habit of taking notes – where teachers who refused to let us take notes while they were talking, were unpopular.
And at conferences like Reboot, Global Voices Online Summits, BlogHer, I find my blogging there is not just about taking live notes of sessions, but more my opinions about them. The sessions are also arranged to encourage participation rather than listening to presenters, and that makes a difference too. So I find myself live-blogging in fits and starts, often supported by reflections once the conference is done. Perhaps I found much greater connection with the topics and the participants and somehow didn't feel compelled to blog it. Also, knowing that many others would be blogging it, and it would be shared with the world outside anyway.