Mahatma Gandhi once said: "We must be the change we wish to see in the world."
My recent experience with the Learning Journey we organised for Clients actually reinforced to me that given the right balance of content with experiential immersions and a focus on 'how' learning would take place, learning-to-be can begin even with just a week's exposure.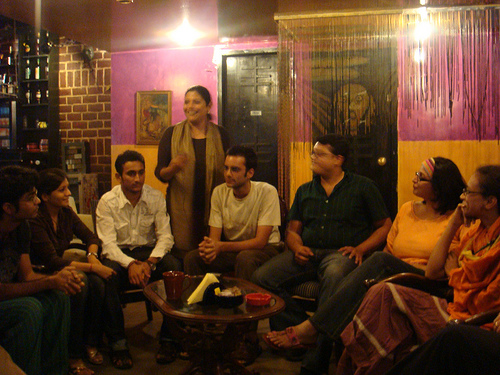 One of the instances that brings such a smile on my face is the sight of youngsters lighting up one cigarette after another, while chatting with 13 older persons who were all non-smokers from North America all in an enclosed area in a coffee and hookah bar! And not one of my clients complained or even minded, although I was so conscious that this could potentially be quite uncomfortable for them!!! You can keep talking about how the youth is confident, irreverent, etc, you can build models based on consumer insights and on all sorts of qualitative and quantitative data, but when you actually observe their manner of 'being' and they actually draw you into their world into which you walk in openly and begin sharing yourself, how much easier and more effective it is to understand and learn!
So many other experiences ….
we're all observers together
lunch cooked by a family in a village on a traditional stove over firewood.
new best friends from the village
with dabbawallas understanding how grassroots self-organising systems work
renovation underway
a variety of food!
with bloggers
[pictures from Flickr group and Elena's flickr page]
This comment from a senior member of the group actually reinforces how a Learning Journey can really create a 'we participate therefore we are" learning framework:
Each of our Team members has been changed for life as a result of our experiences – and we are most grateful. The experiences of our recent Learning Journey has been woven into the very fabric of my soul. More than ever I understand more personally that we are all citizens of the globe bonded together by the common threads of our humanness. Many thanks, again, Dina, to both you and Shubhangi for shaping experiences that touched our lives so profoundly.