The lazy blogger in me taking the short-cut and pasting my tweets on the election results here. I am thrilled at the UPA victory and more, about the nature of the mandate from the people, for several reasons that I will try and summarize here:
1. Indian voters are smarter than we think – they seem to have really voted in good governance and progress rather than good politicians. State assemblies which have done well in terms of progress have been successfully voted back – AP, TN, Orissa, Rajasthan, even Maharashtra and Gujarat — here, Governments have been voted back despite the politics
2. To quote @robinjabraham off twitter: "Manmohan Singh has never been a politician…he's always been a doer and that's all I care about". This resonates totally. I'm so glad that the people of India have recognized the difference between politics and governance, and have voted in the latter.
3. This is proved by the fact that many state governments that have performed really well, despite their politics, have been rewarded, like AP, TN, Orissa, Rajasthan, even Maharashtra and Gujarat.
4. Of course, I cannot be happier about the fact that we will not have the BJP and it's allies ruling us – they operate out of a culture of fear, negativity and cynicism that was evident in their personal attacks on the PM.
5. All that noise about regional parties 'taking over' the national elections has proven to be just that – noise.  The two national parties have the votes for the most part. Having said that, it will be interesting to see how each state votes in State Assembly elections! Moreover, am glad as a citizen that there will be no horsetrading now!!!

6. I think we're seeing the emergence of a very smart, astute, patient and gutsy Rahul Gandhi in this election. I wonder whether it's going to make BJP go back to a more hard-line Hindutva stance with Narendra Modi as the key anchor to take on Rahul!

7. I'd love to see the split up of votes for the online population – would be good to study the effectiveness of the online campaigns from different parties. The BJP had a lot of presence – however I do believe they were 'pushing' their case through advertising, rather than holding conversations that really mattered. Participatory democracy and transparency in governance and policies are still a long way off.
Image below is a screenshot of a Map that is being updated live at NDTV.com (liked their coverage today lots on TV). Go Blue 🙂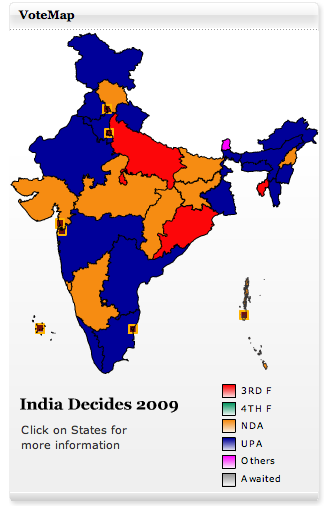 My Twitter timeline on #IndiaVotes09 (most recent first):

this mandate seems to be for good governance – stability & progress & optimism as opposed to fear. governance not politicians. #indiavotes09

NDTV: best performance for a national party since 1991. what was all that abt the take-over of regional parties in national politics? #i

…

congress fighting UP/Bihar on it's own was a great decision. Rahul Gandhi is emerging as a smart, gutsy & patient man. #indiavotes09

@patrix i voted for his governance. not his politics. he could contest and win but that doesn't make a difference to me
@patrix you know it doesn't really matter. he is a leader of a different kind. i respect and believe that he is good for the country

this is an affirmation! my vote counts. it was for Dr. Manmohan Singh #indiavotes09

Go Blue!! Neat map from NDTV #indiavotes09 http://www.ndtv.com/electio…
omg – sorry Rahul Gandhi not Rajiv Gandhi – thanks for pointing that out @ravibhushan
this is the rise of

Rajiv

Rahul Gandhi. chidambaram, mani shankar aiyer trailing.regional parties trailing. v smart electorate. #indiaelections09
RT @Asfaq : @keithdsouza UPA FTW!!!! #indiavotes09
@thecomicproject i meant to say – I have respect for him – that sounded like an order !!!! 🙂
@thecomicproject hv respect for Prannoy Roy, NDTV. he's an elections veteran along w Dorab Sopariwala. & not given to hasty judgement.

impressed with NDTV presentation of election results using touchscreen. just wish they'd get out of satellite image mode. #indiavotes09

damn Raj Thackeray's MNS leading in South Bombay. But Shiv Sena seems to be losing many so that's good. Hinudtva FAIL #indiavotes09

@shashib more sources for India election results http://is.gd/AiKj which i think is the official EC site and check the Hindu. #indiavotes09
@shashib check live feeds on ndtv.com or ibnlive.in.com. the twitter hashtag #indiavotes09 probably the quickest.

acc.to Prannoy Roy on NDTV – no other country counts its votes as fast as India. Is this true? #indiavotes09. leads rolling in quickly!