Umesh Markat, a 9th grade school boy, shyly rattles off this line, quietly proud that he can actually string together a sentence in English! Another example of a sentence in English he shared with us – "Raja Ravi Verma is the best Indian artist". In the picture below, taken by fellow-blogger Alan Reiter, Umesh shows us how the Learn English program, a part of Nokia Life Tools works:
We arrived at his little home in a village in Sholapur district late evening and in addition to Umesh, had the opportunity to speak to his father, his siblings and his friends who had gathered around us briefly. His dad, Hanumant Markat had recently purchased a Nokia 2330 mobile phone. He told us that he had visited the dealership with the idea of buying another Nokia model (he only used it for making and receiving calls as he was illiterate himself), but came back with the 2330 because it had the Learn English Tools available on it. While at the dealership, he was told about the Learn English Tools and believing that it would be great for his son, he purchased  it for Rs. 30 a month. He saw it more as an expense than a cost, as the money was deducted from his pre-paid account, rather than being added onto a post-paid subscriber bill. (In fact, a large percentage of mobile phone subscribers use pre-paid cards in India).
According to the father, the moment he gets home, the phone is usurped by his son, who is really serious about getting ahead in life. His aspirations for his son are for him to get a good job in the city, as farming is not profitable. Knowing English would give his son access to a better job, he felt.
I often see this desire to learn English among many many villagers (youth, parents aspiring that their kids learn English, kids), when I travel to rural areas for my research work.  As with Umesh, the aspiration is to improve their status, get out of farming which they feel is unprofitable and unpredictable, and shift to larger cities to work in large companies where they perceive they can earn better.  For instance, rural women in Haryana ask to learn English, as they see it as a "global language and passport to their children's success".  Or as Binu Varghese who works for Dalit education through the Operation Mercy Charitable Company says, the "power to dream".
The Education program from Nokia Life Tools has four sub-programs: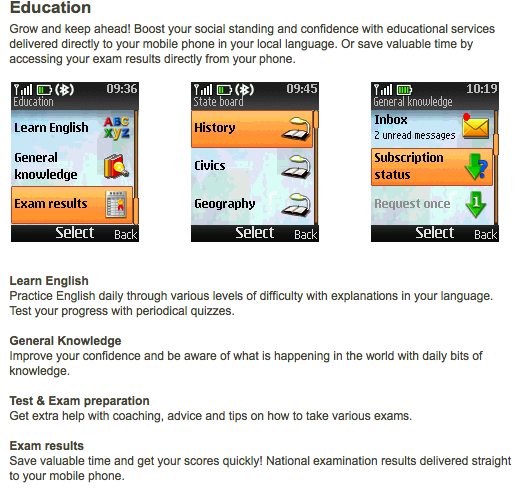 Umesh had selected just the one – Learn English. He felt when he moved to the 10th grade, he would subscribe to the Test and Exam Preparation programs as well.
On the long drive to the villages, Natesh, Head of Nokia Life Tools, India spoke to us extensively about how they developed this concept. It started with debunking the myth that people in villages are so poor they cannot afford such tools, and figuring out through research, what would make a real difference. They found that the need "to better my life" is huge, and Nokia Life Tools might find a space in this, by making users "better prepared when the opportunities strike".  Currently the service is available in 10 official languages of India. I believe this is a little step in that direction and has a lot of potential for distance education too.
The dynamics we observed between Umesh, his friends and his younger siblings were quite interesting – Umesh said most of them had not really seen the Learn English tool he was using – and he did not wish to share it with them. It was almost like his little secret weapon to stay ahead of the pack. Neither had he shown it to his teachers at school, where he was taught English in a very rudimentary manner (alphabets, sentences but he felt most of that was not meaningful). Because this tool actually gave him both the Marathi and English versions of each sentence, learning was easier he felt.
In the picture below, we see first a definition of the term "search", and its use in a sentence. In English and Marathi, to make it easier for the user to understand the meaning well.
We asked Umesh whether he'd like to have audio content instead of text – he thought about it for a moment and said no! His reason was with text, you can read it again and again, understand the sentence well, and make corrections easily, which he felt would not be possible with audio.
We also checked with him if he was aware of the Internet – he said to us "I've heard of it (he said "him") but never seen it. I've heard you can ask him a lot of questions and get all sorts of information".  Humanizing the internet in his own little way, bringing it alive, a body all of its own – right from the mouth of the "babes – well almost 🙂 – Priceless!!!
[Disclosure: I was invited by Nokia to share in these experiences, and was paid travel expenses only, and not a fee.]